In reading Henry Jameses, The Turn of the Screw, all the writers in the Studio bandied about this term: The Canon. From ThoughtCo, I found this definition: "In fiction and literature, the canon is the collection of works considered representative of a period or genre. The collected works of William Shakespeare for instance, would be part of the canon of western literature, since his writing and writing style has had a significant impact on nearly all aspects of that genre."
There is more to read on that site (and many, many others), about this idea of the canon. Read on and learn.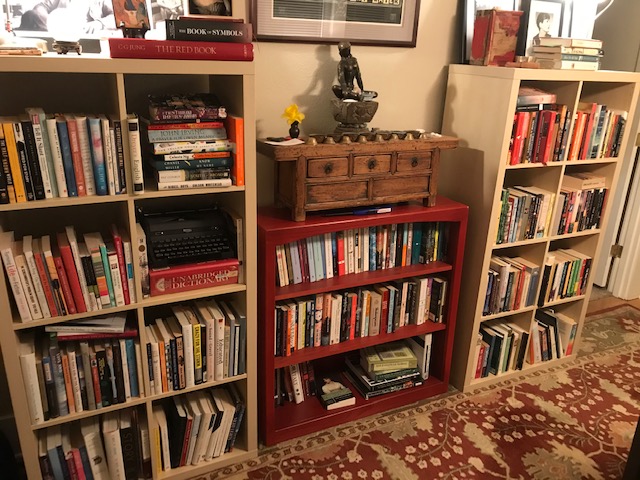 For me, as I've said in class, I have a personal canon which is a collection of a hundred books (give or take) that I feel stand as a solid foundation for my writing. This list assuredly included highly influential writers like Hemingway, Steinbeck, Faulkner, McCarthy, Tolstoy, Shakespeare, Dickens, Fitzgerald, blah, blah, all-white-men, blah, blah, but I also wanted to include writers I hadn't read for whatever reason and felt like I should read: Austin, the Brontes, Tolstoy, Solzhenitsyn, Alexie, Morrison, Walker. I included YA books: I'll Give you the Sun by Jandy Nelson and The Secret Garden by Frances Burnett. I combed through the NYT Bestseller 100 Best Lists and plucked a few off. Same with the Pulitzer list. Then the National Book Award lists. The Man Booker Prize list. I went through Jane Smiley's list in her Thirteen Ways of Looking at the Novel. And I got going. I set a goal to read a book a week for three years running and cut myself some slack if a book was particularly difficult. Both War and Peace and Anna Karenina were slow going and I'd be lying if I said I finished these. The Bible was on my list, but I ended up listening to it on audio. That was quite interesting. In fact, I listened to a lot of the books because, like you, I'm busy. I read on line, I read while walking the dog, I read in the tub, I read for an hour+ each night before bed. I carried a book in my purse, and had another on a CD for when I was driving. And, I fould that I fell madly in love with some authors. When that happened, I paused in my reading and read everything they wrote. This happened with Cormac McCarthy, Elena Ferrante, Jess Walters, Elizabeth Strout, Colm Toibin and Anthony Doerr. I rediscovered my love of John Irving too, and read, and re-read A Prayer for Owen Meany about ten times, same with Cider House Rules.
Here's what I suggest to anyone asking about the canon: If you are going to write a memoir, make a third of your list memoir and biography, then fill in with the fiction you've always wanted to read.
If you want to write short stories, read writers who do both long and short form, read a lot about short stories, and fill in with longer form fiction.
If you want to do essay, read Philip Lopate, The Art of the Personal Essay. He's a must. Read Michel de Montaigne, who laid most of the groundwork for today's understanding of the form. Read about essay in Tell it Slant by Brenda Miller. And do the same as I've suggested above. Read a lot of essay work but also fill in with the wider canon.
If you are going to be a novelist, make a list as I did above or come up with your own variation.
The bottom line: Create a canon that gives you a solid base, set your goal for a year, two, three or five or whatever, and begin. Like writing, reading requires the investment of your time. Set a goal and go. It seems daunting, but so does running a marathon, or writing a book. One step at a time for running, one page at a time for reading. Just get going. (Am I making my point here? If not, let me say it again: Get going).
My canon is below. Let us know what books you are adding to your list. Post in a comment. The way we get started is with community.
NOVELS
The Diary of a True Indian by Sherman Alexie
A God in Ruins by Kate Atkinson
Life After Life "
Transcription "
The Handmaids Tale by Margaret Atwood *
Sense and Sensibility by Jane Austin
Pride and Prejudice "
Inzaneville by JoAnn Beard
Jane Eyre by Charlotte Bronte
Countryman of Bones by Robert Butler
The Secret Garden by Frances Burnett
Alice in Wonderland by Lewis Carroll
Girl with the Pearl Earring by Tracy Chevalier
Did you Ever Have a Family by Bill Clegg ***
Waiting for the Barbarians by J.M. Coetzee
Foe "
South of Broad by Pat Conroy ***
Breath, Eyes, Memory by Edwidge Danticat
The Red Tent by Anita Diamant
Great Expectations by Charles Dickens
The Language of Flowers by Vanessa Diffenbaugh
All the Light You Cannot See Anthony Doerr ***
The Shell Collector "
About Grace "
Out of Africa Isak Denison
The Miraculous Journey of Edward Tulane by Kate DeCamillo ***
A Visit from the Goon Squad by Jennifer Egan ***
Look at Me "
As I Lay Dying Faulkner
Those Who Leave and Those Who Stay Elena Ferrante
Troubling Love "
The Story of a New Name "
My Brilliant Friend "
The Days of Abandonment "
The Lost Daughter "
The Story of the Lost Child "
Cold Mountain Charles Frazier
Ordinary People by Judith Guest ***
The Ten Thousand Doors of January by Alex Harrow ***/*
Stones from the River by Ursula Hegi
Floating in my Mothers Palm "
The End of the Affair by Graham Green ***
The Tenth Man "
Snow Falling on Cedars by David Guterson
Fates and Furies by Lauren Groff ***
Too Bright to Hear Too Loud to See by Julian Garrey ***
The Tinkers by Paul Hardy
Eventide by Kent Haruf
Plainsong " ***
The Old Man and the Sea E. Hemingway
The Dove Keepers Alice Hoffman
Eleanore Oliphant is Completely Fine by Gail Honeyman ***
The Residue Years by Mitchell Jackson *
Portrait of a Lady by Henry James *
The Turn of the Screw " ***
The Fifth Season by NK Jameson ***
The Stone Sky "
The Most Dangerous Place on Earth by Lindsey Lee Johnson **
An American Marriage by Tayari Jones
The Secret Language of Bees by Sue Monk Kidd
The Invention of Wings "
Prodigal Summer by Barbara Kingsolver
The Nest by Jon Klassen ***
The Dinner by Herman Koch ***
Ordinary Grace by William Kent Kruger
A Prayer for Owen Meany by John Irving ***
The World According to Garp "
The Cider House Rules " ***
Setting Free the Bears " *
The Water Method Man " *
The 158-Pound Marriage" *
The Lion, the Witch, and the Wardrobe by CS Lewis ***
The Girl with the Dragon Tattoo by Stieg Larson
A Gesture Life by Chang-rae Lee *
The Railway Man by Eric Lomax
Life of Pi by Yann Martel
One Hundred Years of Solitude by Gabriel Garcia Marquez *
The Border Trilogy by Cormac McCarthy
The Orchard Keeper "
Suttree "
The Orchard Keeper "
Child of God "
The Road "
Beloved by Tony Morrison
The Bluest Eye " ***
The Ninth Hour by Alice McDermott
In the Giants House Elizabeth McCracken
I'll Give you the Sun by Jandy Nelson ***
Little Fires Everywhere by Celeste Ng
Everything I Never Told You "
The Bird Artist by Howard Norman
There There by Tommy Orange *
The Things They Carried by Tim O'Brien *
Dept of Speculation by Jenny Ofill
A Tale for the Time Being by Ruth Ozeki
Where the Crawdads Sing by Delia Owen ***
Shipping News Annie Proulx ***
Accordion Crimes " *
East of Eden by John Steinbeck
Of Mice and Men " ***
Uncle Tom's Cabin by Harriet Beecher Stowe
Olive Kitteridge by Elizabeth Strout ***
Abide with Me "
The Burgess Boys "
Amy and Isabelle "
Anything is Possible "
Lizzie Burton "
Nora Webster by Colm Toibin ***
Brooklyn "
Anna Karinina by Leo Tolstoy
War and Peace "
A Gentleman in Moscow by Amor Towles***
The Goldfinch by Donna Tart *
The Color Purple by Alice Walker
Beautiful Ruins by Jess Walters
The Zero
Citizen Vince
The Financial Lives of the Poets " ***
The Book Thief by Mark Zusak
The Underground Railroad by Colson Whitehead ***
The Nickel Boys " ***
MEMOIRS
You Don't Have to Say You Love Me by Sherman Alexie
This isn't the Ivy League by Mary Blew
Truth Serum by Bernard Cooper
A Bill From My Father "
Love and Trouble by Claire Dederer
Slouching Toward Bethlehem by Joan Didion
The Only Girl in the Car by Kathy Dobie
Four Seasons in Rome by Anthony Doerr ***
Firebird by Mark Doty
Dog Years "
Life Saving for Beginners by Anne Edelstein
Another Bullshit Night in Suck City by Nick Flynn
The Territory of Men by Joelle Fraser
Live Through This by Debra Gwartney
Journey to the Land of No by Roya Hakakian
Cowboy and Wills by Monica Holloway
Driving with Dead People "
How We Fight for our Lives by Saeed Jones ***
Girl Interrupted by Suzanna Kaysen
When Breath Becomes Air by Paul Kalanith
The Liars Club by Mary Karr
The Narrow Door by Paul Lisicky
H is for Hawk by Helen Macdonald
An Exact Replica of a Figment of my Imagination by Elizabeth McCracken
Know My Name by Channel Miller ***
I Hate to Leave this Beautiful Place by Howard Norman
Becoming by Michelle Obama
Crazy for Storm by Norman Olestad ***
Persepolis by Marjane Satrapi
The Sound of Gravel by Ruth Wariner **
Educated by Tara Westover ***
This Boys Life by Tobais Wolff
The Road Washes Out in Spring by Baron Wormser
The Glass Castle by Jeanette Walls *
The Chronology of Water by L. Yuknavitch *
COLLECTIONS
Stone Mattress by Margaret Atwood
Exhalation by Ted Chiang
Interpreter of Maladies by Jhumpa Lahiri
The Middle of the Fields by Mary Lavin
Color Range by Annie Proulx
Thunderstruck by Elizabeth McCracken
Birds of America by Laurie Moore
Tenth of December by George Saunders
The Old Forest and Other Stories by Peter Taylor
Night Lights by Phyllis Theroux
We Live in Water by Jess Walters
The Best American Short Stories 2019 edited by Anthony Doerr
* On shelf/started/put back unfinished
** Student book
*** Studio read/taught

Lit Lessons are posts from the ongoing teachings offered here at Blackbird, largely by the teachers, but also by students with something to share about what they've learned. Comments welcome and appreciated. If you are a student who would like to publish something on Lit Lessons, please read these guidelines.