"I have only to break into the tightness of a strawberry, and I see summer – its dust and lowering skies."  ~ Toni Morrison, The Bluest Eye
This is our annual update on each other's summer. Send a photo or two and let us know what you've been up to!
SUSAN C/SII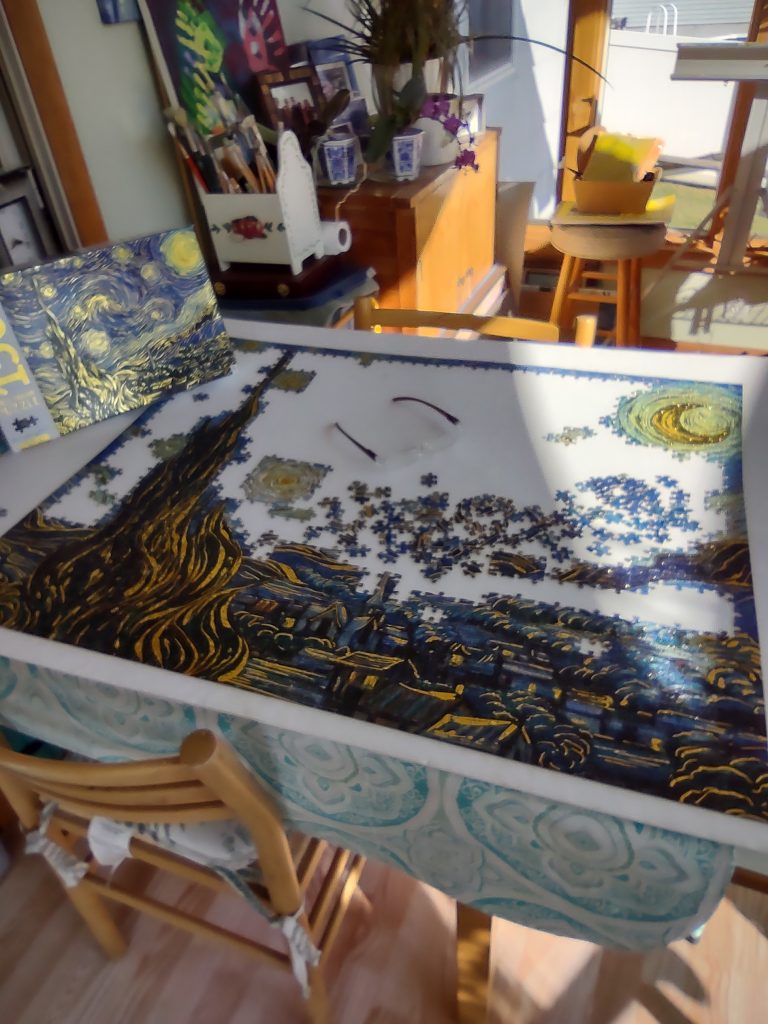 From Susan C in SII and living in CT: In between writing, painting, Library meetings, short trips and volunteering, I work on my 1500-piece never ending jigsaw puzzle of Van Gogh's Starry Night.
LINDA E SII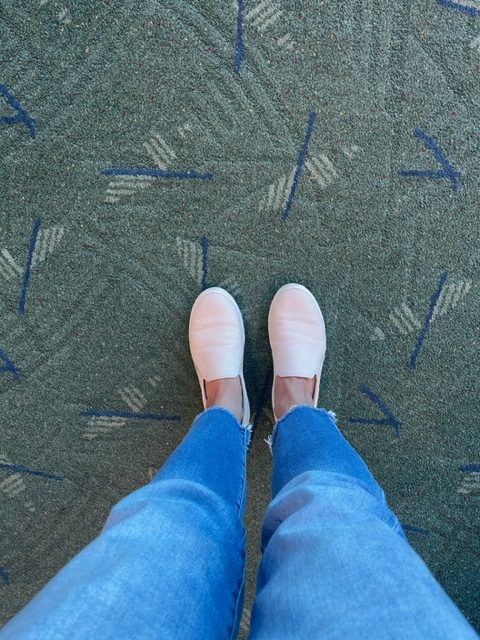 Where is Linda E?
If you're from Portland you know. Heading for a quick summer trip to see family in CA. Weather at home in Oysterville has been too good to be inside, so my writing time has been confined to an hour in the morning while I'm drinking my coffee.
Have been reading "The Seven Basic Plots" and "Writing Life Stories" by Bill Roorbach. I am making slow progress on my memoir, writing some difficult sections and playing with second person (for one chapter). I'm looking forward to the fall studio, so I'll have to lay off the Aperol Spritzes and knuckle down. Maybe next week….
LAUREN C SIII
I returned last Wednesday from camping in Gifford Pinchot National Forest and taking day hikes on the PCT. Next week I'll backpack a valley on the Olympic Peninsula.
Litro Magazine
online recently published a piece I wrote this March:  
https://www.litromagazine.com/usa/2023/07/after-a-hurricane/.
I have another essay forthcoming in
Bamboo Ridge: Journal of Hawai'i Literature and Arts
45th anniversary edition in Sept/Oct (from acceptance to book will be a year – getting used to different publication timelines). I have other pieces submitted and due for a response in the next couple months.
Also, I'm enjoying I Am I Am I Am. The writing alone pulls me in. Thank you for being in touch and sharing. ☺️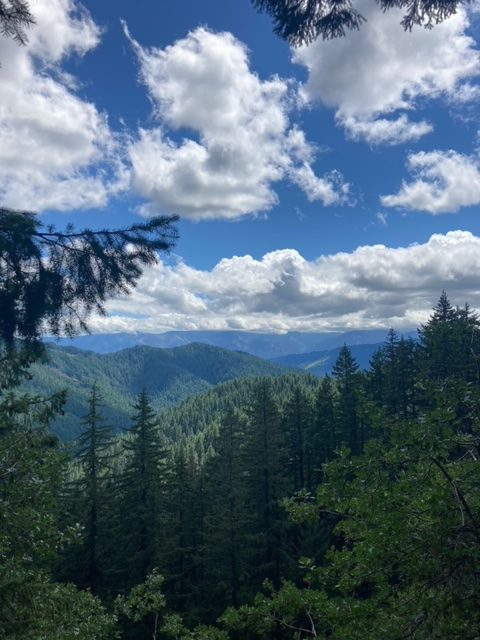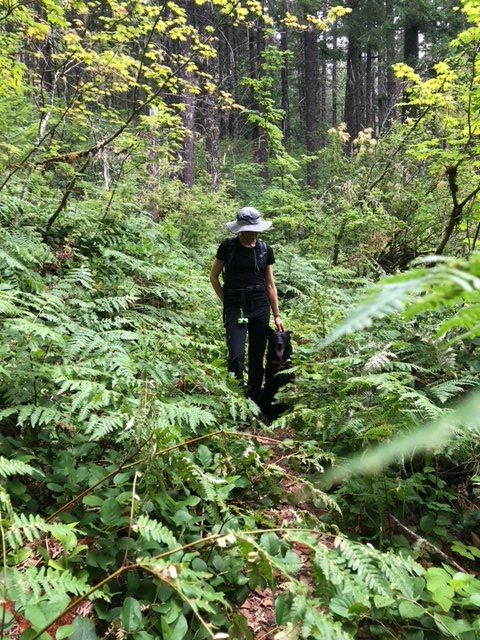 KRISTI T SIII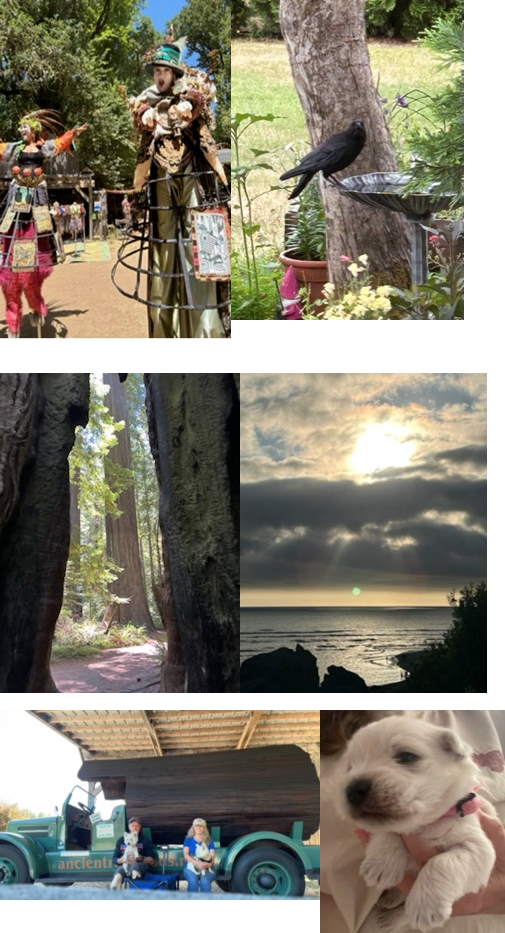 Our summer started off with a bang and continued! July 4th boating on our local waters.  A week later, we walked ten miles in one day roaming the Country Fair, proving my recent foot surgery was a success! We spent the rest of that weekend enjoying friends and music and a remembrance of a dear Country Fair friend who passed.
Then it was on to the California redwoods in our Camper RV. Yes, I am a tree hugger from way back!
We then camped along the small towns of the Northern California Coast, taking in the sea air. A surprise visit with an old friend who gave me back my Gibson guitar twenty-six years later!
Arriving home, the garden was overgrown, lots of weeding and work.
I have made friends with the local crows, learning so much about their magnificent ways.  Did you know they mate for life?
We are expecting two Westie pups from the breeder in September.  The pic you see is of the girl whom I have already named Bella. That will make four Westies, a cat, two young chicks, and four grown chickens. Thank goodness our two thirteen-year-old Westies sleep most of the time. It will be a madhouse around here for a while.
Soon we are off to visit my in-laws in eastern Oregon soon, camping on their beautiful land.
I am reading Fast Draft by Rachel Herron. Also, read halfway through Maggie O' Farrell's, I Am, I Am, I Am. Stopped midway because we are traveling so much, and the story gives me the creeps! Still working on Anna Karenina. I love this tale.
Writing, I have not met my summer writing goals yet. This drives me a little crazy trying to find the time. I daydream about being offered a writer's retreat where I have a little cabin or something away from everything where I am not distracted by my wonderful life. (Seriously, I am living the dream, but even the dream needs a break in order to write)
Miss all of you and look forward to seeing you in the fall????
DOUG S SIV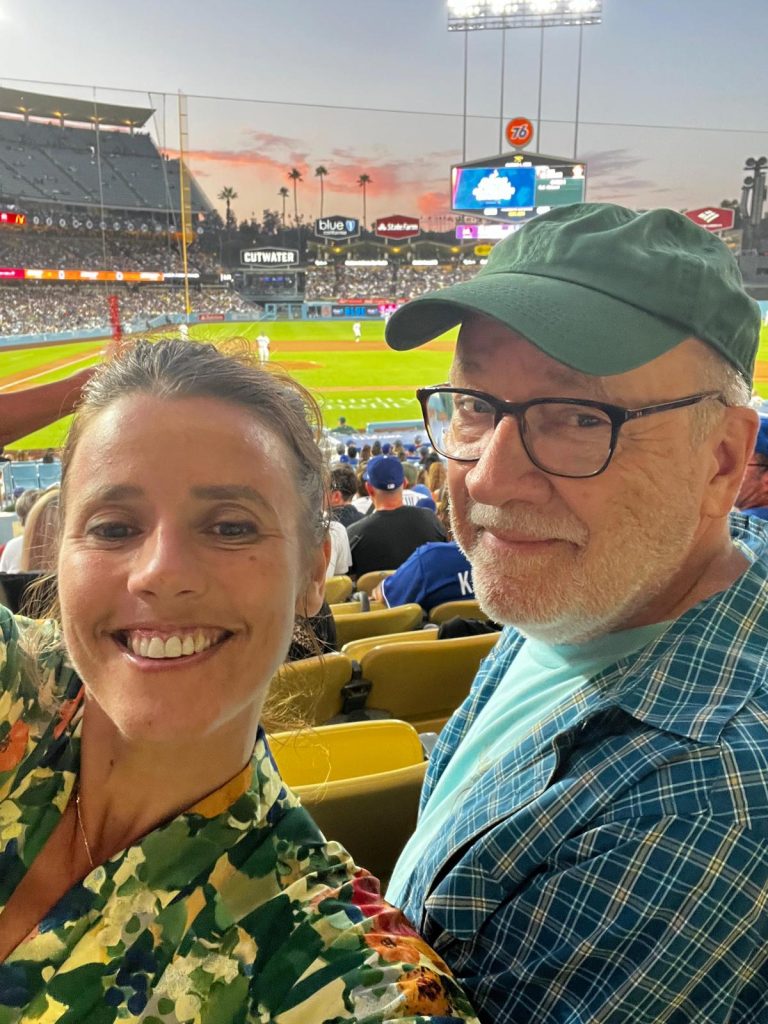 Writing grinds to a slow pace when fun events
are pulling us in other directions,
especially when our precious children are involved.
JULIA P SII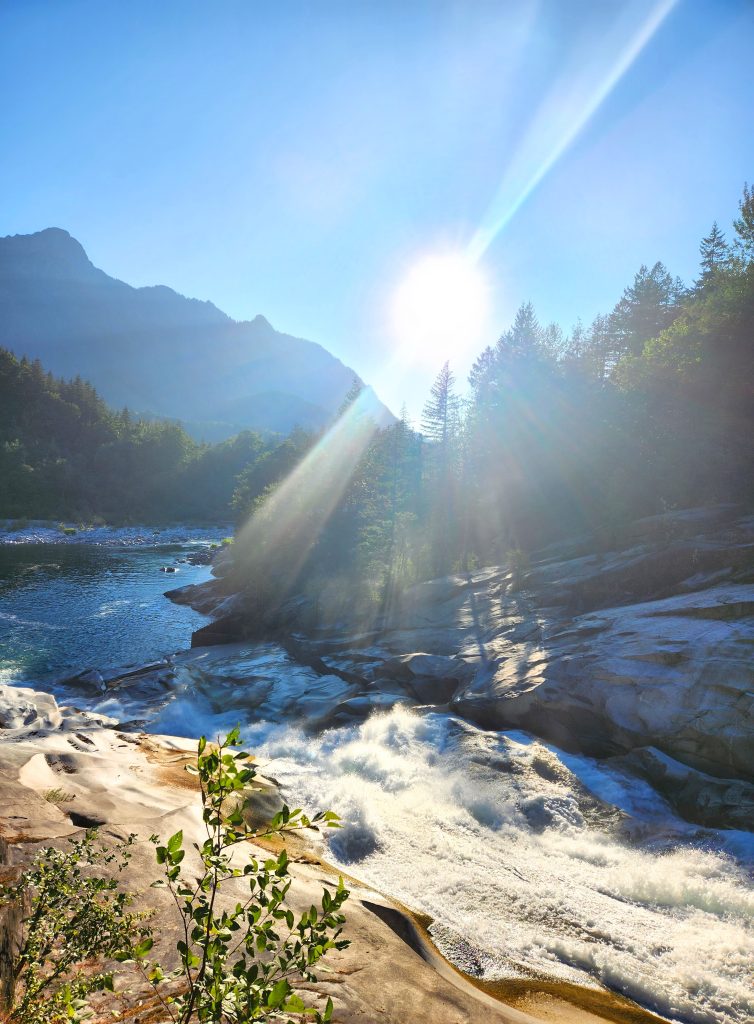 The summer break started off strong with daily writing exercises and reading, and that felt great!  I really enjoy the exercises laid out by Butler and Brooks.  I read and enjoyed 'The Overstory,' which was inspiring and full of beautiful prose.  Recently I've had to focus more on the day-to-day job, but that has benefits as well – I'm able to let my mind wander.  I've started 'The Marriage Proposal' by Maggie O'Farrell and it's thrilling from the start!
My boyfriend, Dan, and I enjoyed two trips out into the woods, one camping with our two greyhounds near Merrill Lake (WA) and the second glamping in Gold Bar, WA.  Both trips were refreshing and a clear reminder of why I love being near the water and surrounded by trees.
I've missed the content and structure of a weekly class and I'm very much looking forward to starting up again!  I wish I was able to participate more this year by joining additional options like the Publication Club, but I'll be excited to do so next year.
PATRICIA B – SII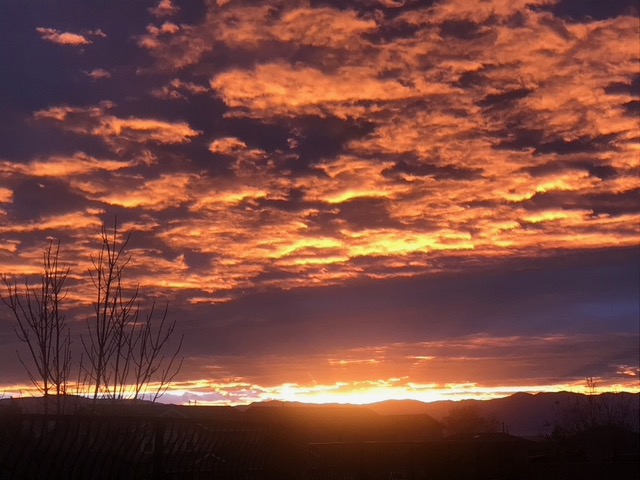 Healing.  The vacuum of grief subsides like low tide.  It never leaves and at times roars back destroying my beachhead, but in the calm in between the extremes, hope grows. I'm getting to grateful.
CINDI G – SIV

My summer started with a great trip to London, Stonehenge, and on to Corfu, Greece for a writing retreat with writing coach Tammy Houts. Tammy introduced me to Jennifer, and I'm happy to say I've committed to a second round of studio with Black Bird Studio for Writers because of that connection. With all the busyness of summer, I haven't come close to meeting my personal goals for summer writing. But I have enjoyed spending time with my grandkids, hiking on the beautiful California Coast in San Diego, and trying to train two ornery dachshunds. Looking forward to getting back down to the business of memoir writing. But first, one last trip to Europe early September for a romantic river cruise down the Danube with my husband.
Skylark – SIII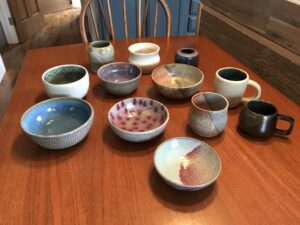 This summer I took a pottery class and learned how to use ribs to make bowls. I also started experimenting with carving my leather hard pieces to add texture. I made everything in the  photos (although I haven't gotten all of my pieces  out of the kiln yet so there are a few bowls, mugs, and vases missing from this collection).
I also started a part-time job at a local bakery, practiced my handstands, saw a cirque show, hosted visitors for a month, did a boatload of writing, and ironed out some key elements of my novel which had been nagging me. It's been an action packed and exhausting (but great) summer and I'm thoroughly looking forward to a more mellow fall!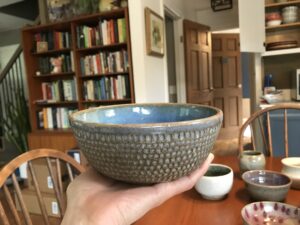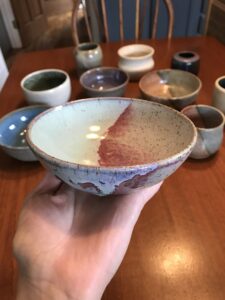 Camille – SII
Photos from Ireland. We drove all over the country which enabled us to see some amazing things!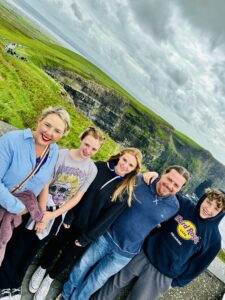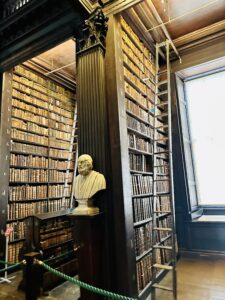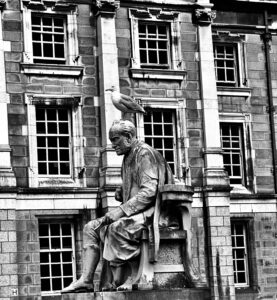 Eamon – SIV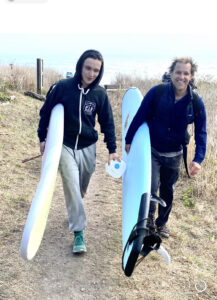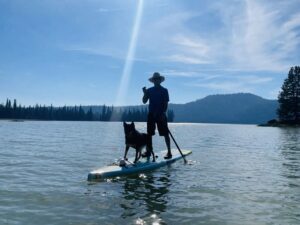 It was the summer of small trips. Rafting in the desert, surfing at the coast, walking along mountain rivers, floating on lakes, dipping behind waterfalls —as I look at these pictures I realize all my best moments were in the water. I've definitely done some writing this summer–stitching and then unstitching–so not many words on the page, but I think I figured out a path forward– so I'll call that a win. Looking forward to getting some structure with the writing classes this fall!

Lit Lessons are posts pulled directly from the on-going teachings at The Blackbird Studio. For students, they are a reinforcement of the weekly classes. For those popping in to check us out, they are a taste of our depth studies. Comments welcome and appreciated. If you are a student who would like to publish something about your experience at the Studio, or a lesson you've learned, please read these guidelines