Good Writing Tips and Reflections on Contemporary Memoir
(This post, Thoughts on Contemporary Memoir, comes from Flight School, a site devoted to teachings for memoir writers)
Confession time…I don't read a lot of memoir these days. ????
I've read many, many over the years, and many novels too. And, I devoted myself to reading a pile of memoirs when writing my own. BUT…I don't read many contemporary memoirs because I find myself feeling…well…how to say this kindly…put back.
I want to love them, and the writing is always stellar, but in the end I often sense something…lacking. Worse, that something always conflicts with the marketing copy and the quotes that spray the back of these books, which makes me feel a rip tide of conflict. Is it me? Or is it the book? What's going on here? Why is everyone going bonkers and I'm feeling…meh?
Then comes an even deeper conflict because I love memoir writers. ❤️. I do. If you're in class with me, you know I'll move mountains to help you craft the very best book you have inside…I will.
BUT…a book either stirs my heart or it doesn't. For instance, right now I'm reading The Seven Storey Mountain by Thomas Merton. Do I love it? Want to write like him? No. And kind-of. But I won't be teaching Merton. No. No. No. And honestly, I'm teaching from fewer and fewer memoir writers these days too, as my students keep pointing out which circles us back to that feeling inside when I read so many of our contemporary memoirs…(I can't write "meh" again even though "meh" is so perfect. Push Jennifer, push to be what you are…a writer!!! Fine…→)
…which make me feel flat and itchy at the same time. Passive but also slightly aggressive. Tired but then agitated as if I want to do something, which is teach myself and other writers NOT to write a sub-par memoir.
All this brings me to a new policy. ???? Drum roll:
I will not read, or teach from a memoir that makes me feel meh. I won't. And I will not criticize a memoir publicly either because how will my opinion help the writer, or the reader, or anyone? The book is done. It's out there. And, like our mothers used to say, "If you don't have anything nice to say…" (You certainly know the rest). What I will do is sing the praises of memoirs and collections I love.
Let's start with this lovely, smart, concise, and hardworking book:
I learned of Howard Norman from literary agent Anne Edelstein, who had recommended his novel The Bird Artist in an effort to help me become a stronger writer. I purchased The Bird Artist. Read it. And then re-read it again, and again, while underlining and dog-earing pages. (I did the same with his memoir, but added sticky tabs too).
I Hate to Leave this Beautiful Place is advertised as a memoir but technically is five interconnected essays under the heading of one idea: love of place. The title succinctly tells the reader what they will be getting, which includes Norman's longing in the leaving. Artful. Smart.
I recommend Beautiful Place, often and eagerly, for the reason one might recommend anti-inflammatory habits like not eating sugar, or practicing gratitude, or grounding. This book is an anti-inflammatory for writers for many reasons. One could be how Norman writes about nature. He loves landscape and birds in particular, and Nature seems to love him right back.
Soon the mallards cautiously drew close to me. At such proximity, they were, in the intricacies of their plumage, surprisingly lovely. The expressiveness of their muttering, gargling, and quick nostril-fluting, the repertoire of coded signals, was hypnotic. ~ Pg. 21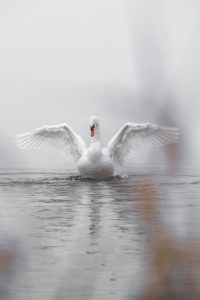 Note, this is just before he (as a young boy) inadvertently kills a swan…so, this book isn't all lovely prose about nature. No. It's also about the blundering stupidity of humans and the resounding guilt that follows, which makes the author a man who has done personal work and will not pawn off easy answers about the paradox of life. Norman arrives on the page with the grace of confident befuddlement that is endearing, and perplexing, and a little annoying (in the best way).
I hadn't meant to kill the swan. It was a beautiful, mean bird, and spent nights in my secret haunt. Nearly fifty years later, I can still hear its strange guttural exhalation; fifty years of hapless guilt and remorse. So often, I close my eyes and picture the water closing over. ~ Pg. 37
For the memoir writer, one dragging up the deepest hurts and confusions, and trying to figure out what can and should be passed over to a reader, Beautiful Place also provides lessons a plenty.
On restraint.
On elegance.
On how to write quietly.
On heartbreak fashioned with humor.
And on craft and structure too. It's all here.
It won't hurt to read Norman's work. Oh, it will hurt a bit, he doesn't coddle his reader. Nor will he offend her intelligence or waste her precious time. I spent hours in Norman's world and never felt cheated of my money, lied to by the copy on the book jacket, or manipulated by some fad-follower-movement. I was able to feel self-exploration and humility in his words but also in the white spaces between the words. That's remarkable.
On my own journey as a memoir writer, I don't want to read books like this, I need to read books like Beautiful Place. Norman calms me down, gives me hope, and demonstrates what this art form is all about.
I hope you'll find something within the pages of Beautiful Place too, and if you don't, well…you don't. That's art. In the end, it's subjective. Yes?
For Lit Lesson Readers, a nudge to make your recommendations too, and if you can, add the reasons why it was a worthy read. I'd like to hear from you, not the promo copy.
XO J. ????

Lit Lessons are posts pulled directly from the on-going teachings at The Blackbird Studio. For students, they are a reinforcement of the weekly classes. For those popping in to check us out, they are a taste of our depth studies. Comments welcome and appreciated. If you are a student who would like to publish something about your experience at the Studio, or a lesson you've learned, please read these guidelines