The Foundations Classes: Live 
Each year, the Studio offers two Foundations classes: Bones of Storytelling & Scene vs. Exposition in the fall and Bones only in the spring. (Sample Bones by clicking here now).
This is your chance to work with the Blackbird staff, get to know our culture, and have a great time learning about story and thinking about what it is you're writing or what you want to write.
Bones covers concept, theme, plot, character development, structure, and antagonistic forces from the perspective of your project. Leaving, you will have a drafting plan for a finished, marketable book.
Scene vs. Exposition provides the basic of composition and we help you weigh the pros and cons of using scene and it's counterpart, exposition. We also get to learn more about you, via your writing, and start giving you pin-point advice to take your work from good to great.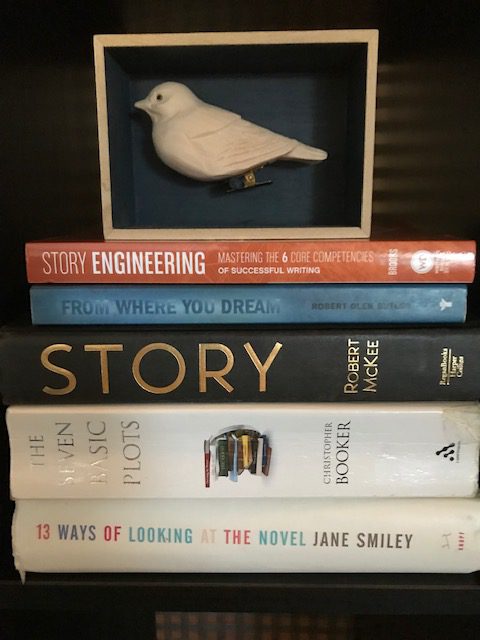 COMING UP NOW:
Bones Only PM Option:
Wednesday's 5:30-7:30 p.m.
March 1 – May 10
FORMAT:
You sign up, get your books and then we send you the class page with links. Every week, you watch a teaching video, do the homework assigned, and come to class ready to debrief/deepen your learning with your teacher and fellow writers.
BOOKS:
Story Engineering by Larry Brooks
From Where You Dream by Robert Olen Butler
13 Ways of Looking at the Novel by Jane Smiley
Story by Robert McKee
The Seven Basic Plots by Christopher Booker
Get these books yourself, or let me send them to you w/ binder of handouts.
PRICING:
PAY ONLINE: $455.00
PAY W/CHECK: $450.00
Mail to: Blackbird Studio for Writers, c/o Jennifer Lauck
34900 Resort Drive, Cloverdale, OR 97112
BOOKS & BINDER:
$250.00 to include supplies and priority shipping.
$125.00 just the binder
NOT REQUIRED. You can get these yourself.